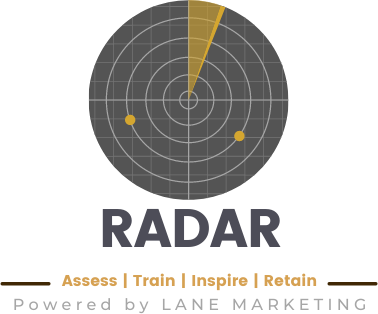 With Lane Marketing's RADAR Program you will activate & inspire your team, invest in their career future, and utilize the strategic workforce plan that will enable your entire team to soar to the top while creating loyalty.
Steering Stage

First, we will implement DISC analysis within the hiring process to align the role with the candidate and hire the right talent for the job and the culture.

Team Tune-Up

Next we will take a look at your current team and start them on the 5 Star RADAR Leadership Program custom developed by Lane Marketing for your team. Every employee at every level is a leader and we will help them rise.

Exec Acceleration

The leadership team will be brought through the Executive Acceleration Program that will focus on how to identify the key components that drive success, build a world class culture and get the most out of each team member.
Assess | Train | Inspire | Retain
Built for you
The right outcomes are achieved at all levels when you invest in your team! "The Great Resignation" is affecting every industry and business. Don't let it impact yours. Retain your most valuable assets. This program fires on all cylinders to attract the best talent, reduce turnover and create loyalty while improving communication at every level within your company. Let's get you in the Fast Lane!